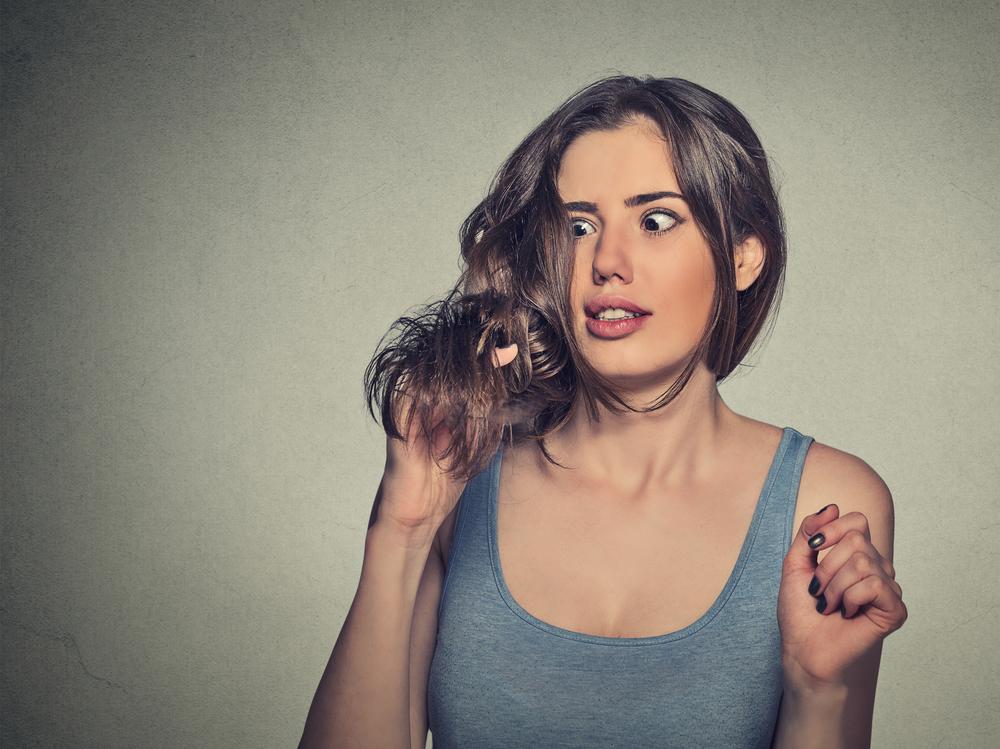 Trichotillomania (TTM) is a hair pulling disorder that I often treat in my London clinic but often few sufferers are  even willing to  talk about it. This means that many health professionals are unfamiliar with the problem and therefore how to treat it . This can be very frustrating for TTM sufferers who finally reach the stage of wanting to talk about the problem and seek help. One of the most difficult aspects of treating sufferers of  trichotillomania is that most prefer to keep quiet and remain invisible even when they have suffered significant hair loss. They find  creative ways to hide their hair loss. Most cover up with head scarves, hats, hoodies, and carry on as if nothing is wrong yet pull in secret, much like a compulsive eating disorder.
In order to better understand  this impulse disorder, it is important to look closely at the causes, symptoms, and behaviours of trichotillomania sufferers. The triggers for pulling do vary from person to person.
An assessment by  an experienced clinical psychologist will help the sufferer (and sometimes family members, especially parents)  to better understand the driving forces that promote the pulling behaviours and  formulate  an  effective treatment plan. Here are the basics about trichotillomania and how a psychologist can help with finding the right treatment.
What is Trichotillomania (TTM)?
TTM is a psychological disorder identified as an impulse control disorder. Contrary to popular belief, TTM is not a form of Obsessive Compulsive Disorder (OCD). The two disorders can coexist due to their shared irresistible urges, though they are diagnosed separately and treated separately. TTM also bears a close resemblance to Compulsive Skin Picking also known as BFRBs (body focused repetitive behaviours)  though this is also considered a separate disorder with different diagnosis and treatment options.
Predominantly found in females, TTM typically develops early in the adolescent years into the early twenties, and many patients continue to suffer from the effects throughout their lifetime until they seek treatment. TTM can also occur in pre-school and primary aged children and there are male suffers too of all ages.
The accepted peak age of onset of TTM is between the ages of 9 to 13. Trichotillomania triggers include depression or stress, and due to the impact it can have on patients socially, the disorder often goes unreported. This lack of reporting makes estimating prevalence difficult.
Trichotillomania Symptoms
Symptoms of trichotillomania vary a great deal in their severity, but the most recognisable characteristic is recurring, compulsive hair pulling at the roots. The scalp, eyebrows, and eyelashes are the most common areas that patients pull hair from, but some suffers also pull from more other  regions of the body, including the pubic and perirectal area. Most people with TTM pull hair using their fingers, but there are documented cases in which sufferers have used tweezers or other instruments instead.
Occasionally, those with TTM may also suck or chew on their hair with ingestion occurring in some cases, which can cause problems in the intestinal tract that require surgical intervention.
Social Impact of Trichotillomania
Hair loss is a natural result of trichotillomania, and many who suffer from the disorder try to hide their hair loss. Camouflage techniques like hats, scarves, and false eyelashes are common, and some individuals even have false eyebrows permanently tattooed on their face.
Social anxiety regarding trichotillomania hair loss is extremely common, and sufferers may become so depressed, ashamed, or embarrassed about their hair loss that they avoid social situations altogether in order to keep friends and loved ones from seeing their hair. There are sufferers of TTM who are able to live normal lives, and many form long-term relationships or marry in spite of their condition. For each success story though, there are other sufferers who avoid close relationships out of fear that their TTM secret will be uncovered.
Characteristics of Trichotillomania
Trichotillomania is characterized by two main characteristics:
– High stress or tension accompanied by an irresistible urge to pull
– Feelings of pleasure, gratification, or relief after pulling occurs
While TTM is classified in the DSM-V as an impulse control disorder, there is still much debate about how this condition should be officially classified. Trichotillomania symptoms can at times appear to be a mere habit, or sometimes they resemble an addiction behaviour, while at other times they possess the characteristics of a tic disorder or an obsessive-compulsive disorder.
Treatment for Trichotillomania
As awareness has grown in recent years about trichotillomania, so also has the number of treatment options and therapies. Medication and cognitive behavioural therapy are the leading methods of treatment, though there is no one therapy or medication that has proven to be completely effective.
Group therapy sessions may also be beneficial, in addition to training in live skills like assertiveness, anger/anxiety management, setting goals, relaxation and problem solving, etc. An effective therapy programme is always specifically planned and implemented according to the needs of each individual patient, and when practical also include family members and/or other supportive individuals in the sufferer's life.
A particularly effective form of behavioural therapy is Habit Reversal Training, or HRT. This practice involves exercises designed to help sufferers strengthen their willpower to break the hold TTM has on their lives. It is a simple process, the most difficult aspect of which is maintaining consistency and patience. Therapists work closely with sufferers to help them improve their follow-through. The core objective of HRT is replacing hair pulling with other activities to keep hands occupied while developing healthy coping skills for dealing with stressful mental states that trigger hair pulling. Psychologists usually begin HRT with a technique called Awareness Enhancement, teaching sufferers to examine their behaviour patterns that lead to hair pulling. This understanding is crucial to developing a successful treatment programme. The second stage is stress management through abdominal breathing and progressive muscle relaxation. These are simple stress management techniques that help to reduce stress or anxiety that can help alleviate  hair pulling compulsions.
Sufferers  are also taught to practice stimulus control by learning to limit trigger situations and activities that promote  hair pulling.
One of the most powerful additions to any treatment programme is giving suffers a sense of community. Knowing that they are not alone and discovering perhaps after many years, possibly decades, that their  condition is officially recognised by health professionals and knowing that  are people who share the same thoughts and feelings; that they are understood and accepted; and seeing people who share the same disorder,  expressing empathy and combinee to  make a formidable healing force in the lives of sufferers.
Regardless of the therapy or method of intervention for tricotillimania, keep in mind that progress tends to be gradual and incremental, and no difficult change is ever accomplished overnight. The best measure of progress is to examine all aspects of a sufferer's quality of life. When it comes to TTM therapy, the most important objective is alleviating distress.
If you believe that you or someone you care for is struggling with trichotillomania, get help or be supportive of seeking help from a clinical psychologist. Trying to remain invisible, attempting to stay strong alone, or believing that you are weak because of your trichotillomania only perpetuates the cycle of self-harm and keeps you from living a full and satisfying life. There is hope, and you can recover. Seek professional help today  and free yourself from compulsion and pain.